Home & School 9/12-9/16, 2022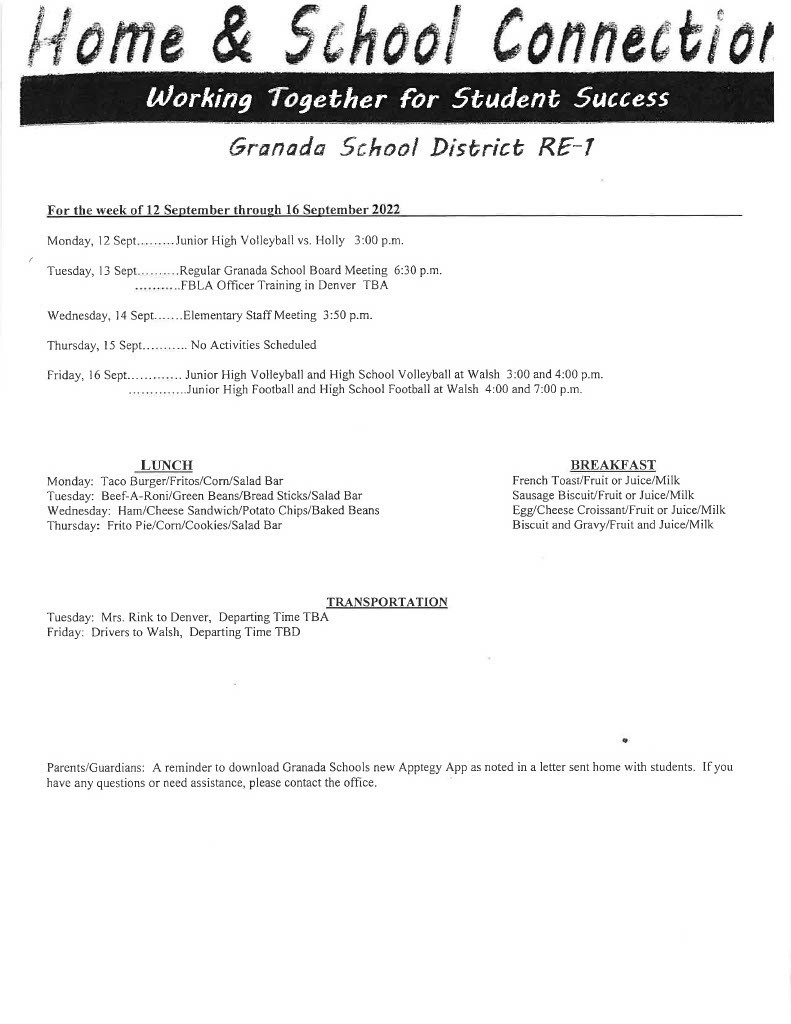 September 2022 Calendar
The High School Football game vs. Fleming on Saturday, September 10 has been cancelled. The Junior High and High School Volleyball games vs. Wiley will be played on Friday, September 9 at the same schedule times. Thank you.
Yearbook Signing Party!! Tuesday, September 6, 2022 @ 5:30 p.m. FOOD AND PRIZES!
Home & School 9/5 - 9/10, 2022
Fleming @ Granada (Football) Date: September 10, 2022 Time: 1:00 p.m. HS Varsity only
Wiley @ Granada (Volleyball) Date: September 9, 2022 Time: 3:00 Matches: JH "B" - JH "A" - HS JV (Approximately 5:00) - HS Varsity
The HS Volleyball game with Manzanola has been cancelled
the JH & HS Volleyball game scheduled for Thursday, September 8th is now scheduled for Friday, September 9th. Times and location are the same.
Admission for JH and HS games: When we have JH and HS playing on the same night we will be charging at the JH game.
September Lunch Menu
September Breakfast Menu
Update for Thursday's HS Volleyball game VS South Baca. JH "B" 3:00 p.m. JH "A" HS "JV" HS "V"
Today's JH Volleyball game with Alta Vista will start at 3:00 p.m. not 4:00 p.m.
Home & School August 29 to September 2, 2022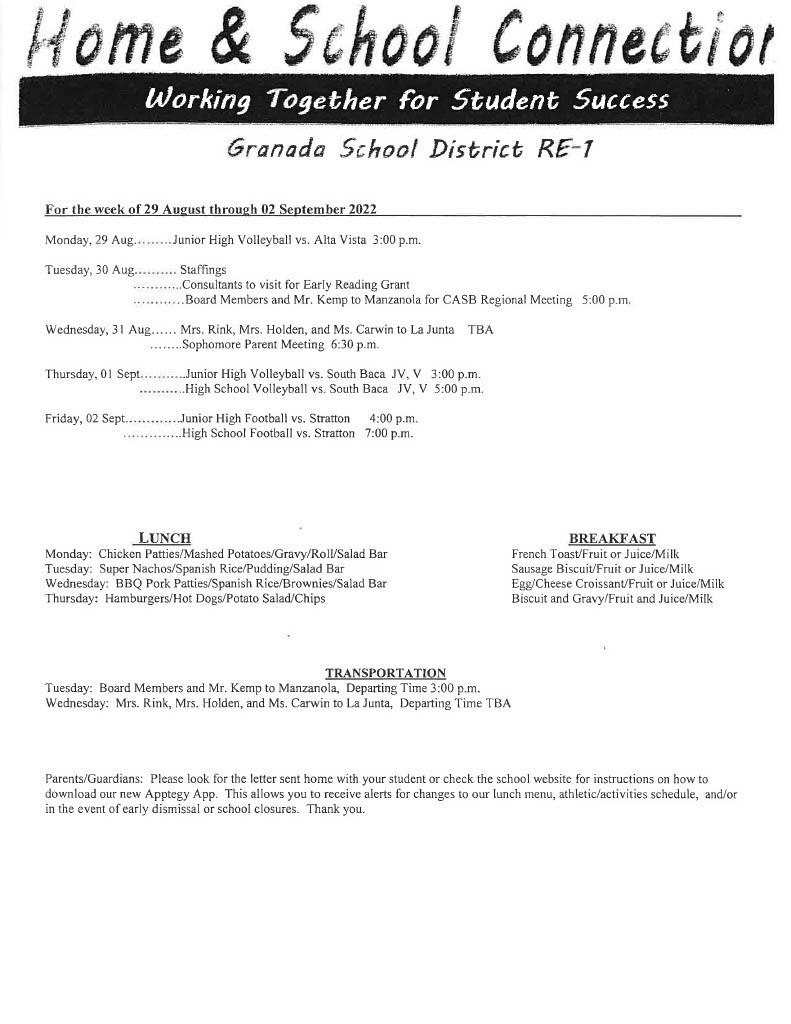 Way to start the season Lady Bobcats! Big win over Kim/Branson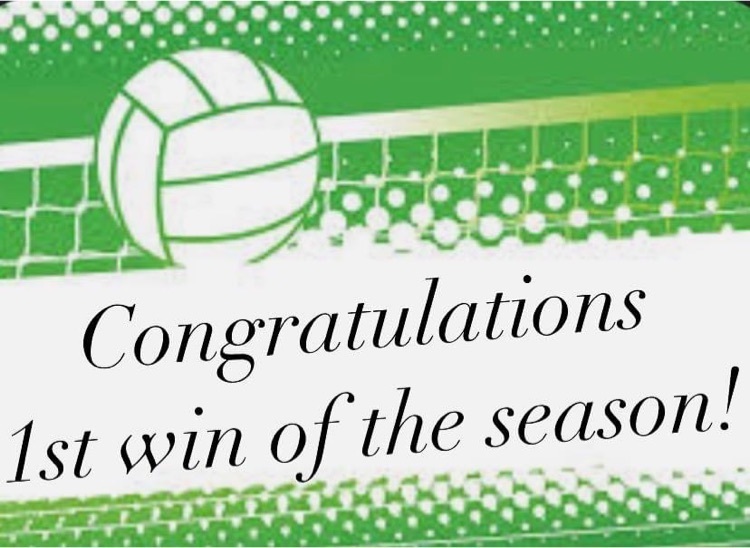 Great job Bobcats!!! First win of the season. 68-24 over Kim/Branson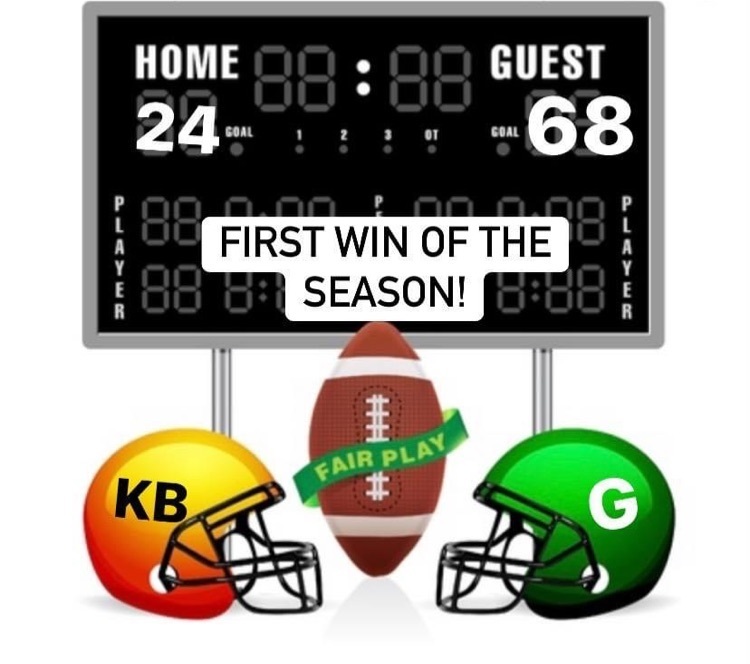 From Branson School District: 1. We are not charging any admission to the game. Everyone gets in free. We're appreciative that everyone makes the long drive to support your teams. 2. Your fans are welcome to park their cars anywhere on the visitor's side (east side) of the field. We don't have bleachers on that side of the field (yet), so they'll need to bring camp chairs. 3. For those that aren't able to make the drive, we will be live-streaming the games on YouTube with play-by-play commentary. The links will go live about 10 minutes before each game. Junior High game:
https://www.youtube.com/watch?v=LsNKzdTrEDs
High School game:
https://www.youtube.com/watch?v=LsNKzdTrEDs
Branson School District
Menu Change for Monday, August 29, 2022 - Chicken Patties, Mashed Potatoes and Gravy, Dinner Roll and Butter, Salad Bar with Peaches, and Milk